"Smog-eating" ceramic fins cover hospital in Milan by Mario Cucinella Architects
Apr 26, 2022
The wave-like structure of this hospital building in Milan, designed by Italian group Mario Cucinella Architects, is covered in large ceramic fins with a titanium dioxide coating that can break down pollution particles.

The Iceberg, a 40,000-square-metre hospital with a 284-bed inpatient facility, integrates university teaching and research areas with an emergency room and 10 stories of San Raffaele Hospital.

With a curved, nearly totally glass structure sitting on a single-story podium dressed in earth-colored tiles and planted with a garden on its roof, its design was influenced by the supply of huge amounts of daylight for both patients and employees.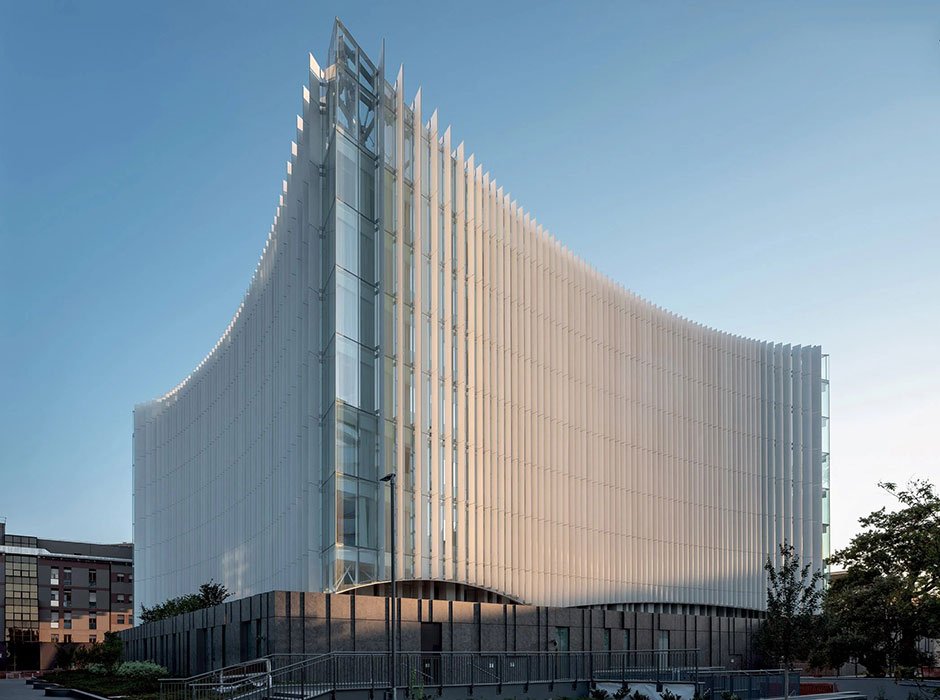 The hospital's form continues to the south, forming a bridge elevated above the ground on metal stilts that connects to the next structure.

The ceramic fins that cover the building's top five stories change depth in reaction to the sun's path and have been carefully manufactured with a titanium dioxide coating to disintegrate pollution particles while also conserving heat.

The emergency center is located on the podium level, and a surgical building with 20 operating rooms is located below three basement levels. Seven stories of inpatient and instructional spaces are arranged above a central gap that lets light into the lower levels.
For family visits, less clinical, "home-like" rooms have been constructed to provide a broader diversity of interior settings for patients, and additional lounges for visitors have been organized in the building's glazed corner portions. The inside finishes were chosen for their durability and simplicity of cleaning and upkeep, with a pastel color palette to emphasize the sensation of light.

Mario Cucinella Architects had previously completed a curved, white concrete church in Mormanno with a cross-shaped entrance and a cultural center in Tuscany with a long, angular patio.