Feilden Fowles completes the timber-framed dining hall at the University of Cambridge
May 25, 2022
Architecture studio in London Feilden Fowles has constructed a timber-framed dining hall with a faience-tiled volume situated above a pigmented-concrete colonnade at the University of Cambridge's Homerton College. The dining hall features the main eating space, as well as a smaller room for eating called a buttery, kitchens, and staff amenities, and was designed to reflect the adjacent arts and crafts-style Ibberson Building and the college's Victorian Gothic Revival structures.

The structure was created by the London-based studio of Fergus Feilden and Edmund Fowles to replace Cambridge's youngest college's former dining hall and dark, cramped, and obsolete kitchen facilities. The college relocated to the site in 1894 from its previous location in east London, and it now occupies many buildings built for Cavendish College in the 1870s.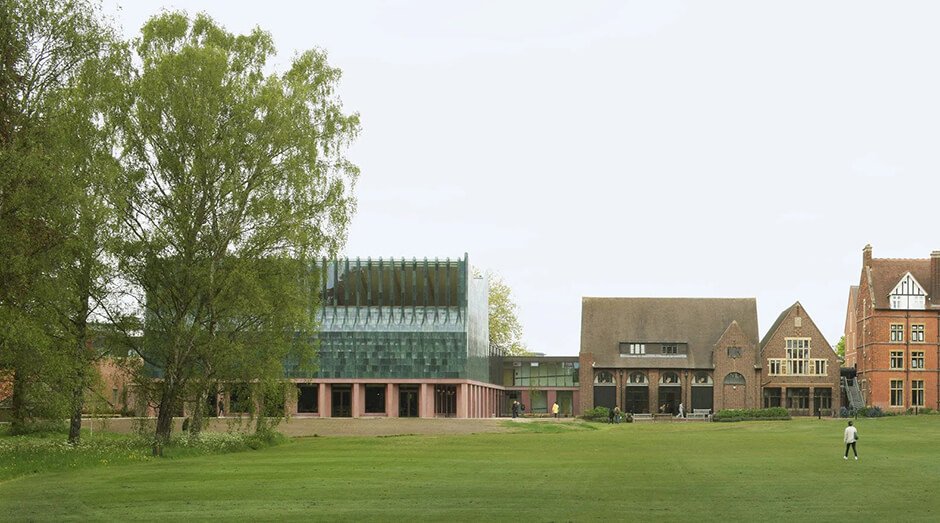 Edmund Fowles, director of Feilden Fowles, said the hall's design was reflective of Homerton's modern attitude and daring objectives while still being in conversation with Cambridge's rich architectural legacy. There were echoes of King's College Chapel's marching buttresses, references to Homerton's Cavendish College buildings' Victorian Gothic Revival, and themes from the nearby arts and crafts Ibberson Building.

They come together as a symbol of contemporary architectural thinking, an embodiment of low-tech principles, and 21st-century arts and crafts. The structure is intended to serve as a social hub for the college campus, with a number of courtyards and cloisters surrounding it, providing informal gathering spaces for unexpected encounters. The ground floor plinth is made of pigmented concrete, with columns spaced on a three-meter grid to give the elevations a logical and orderly appearance.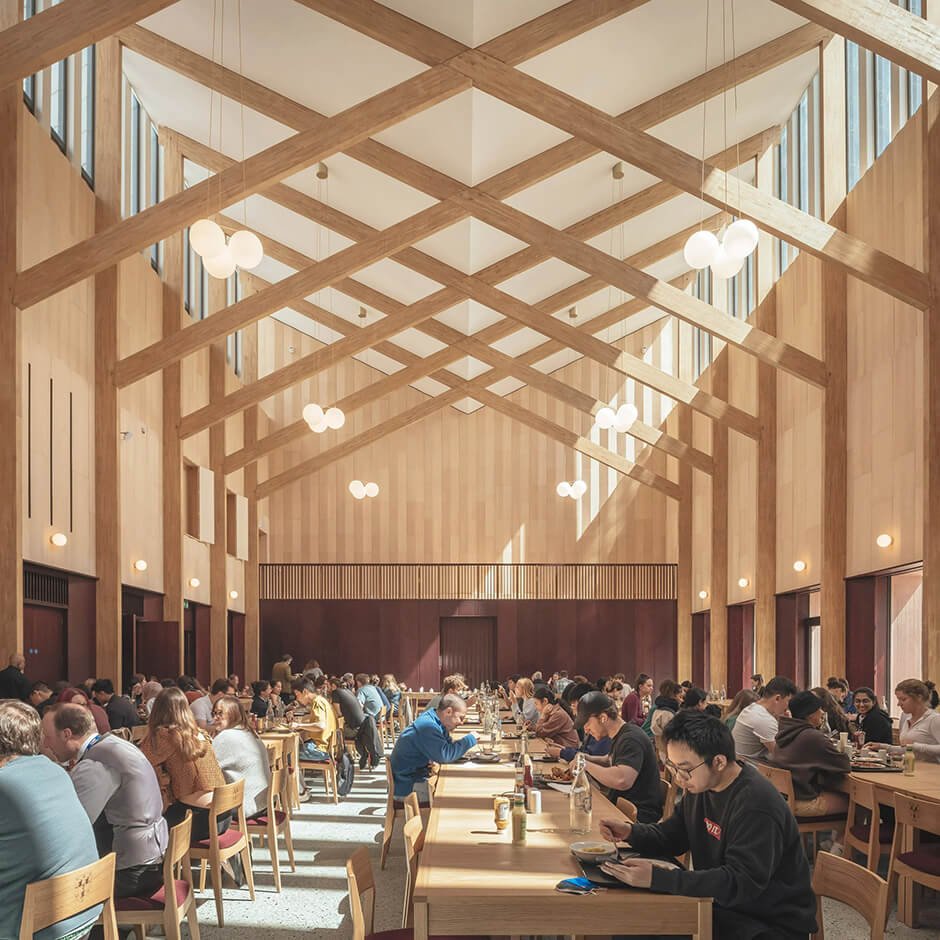 The structure is partially coated with green faience tiles that reference the arts and crafts movement while also complementing the college's previous buildings, particularly the Great Hall, which are made of red brick, sandstone, lead, and oxidized copper. The 3,200 tiles were created in collaboration with architectural ceramics manufacturer Darwen Terracotta and may be found on numerous Victorian public buildings in the United Kingdom.

The architecture studio went on to say that the design honors the integrity and intrinsic beauty of materials and craftsmanship, with decoration derived from the natural beauty and imperfection of the handcrafted. It also incorporates modern construction processes and technical technologies, such as the use of parametric modeling to develop the faience facade — 21st-century arts and crafts.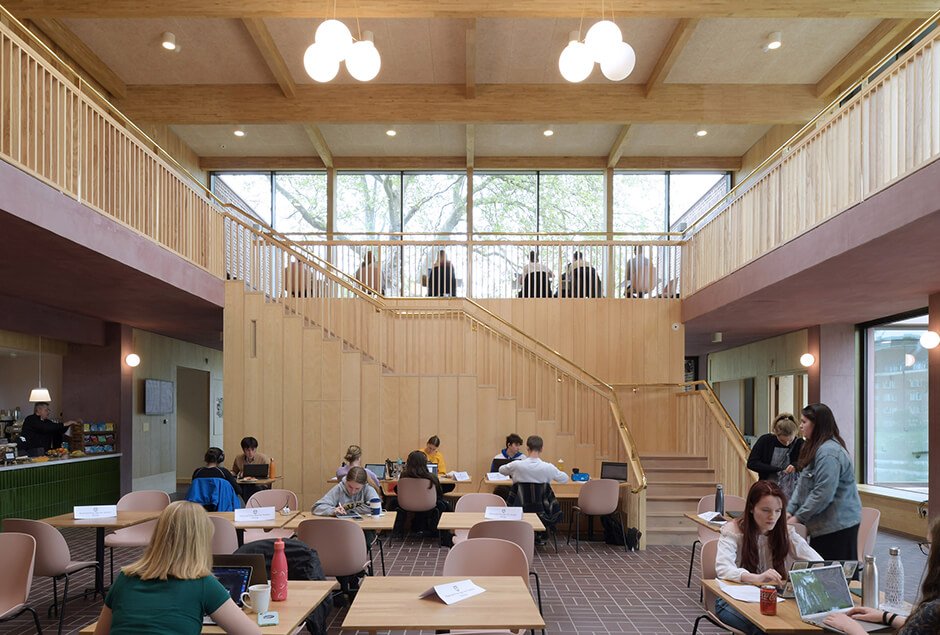 The main interior area is a light and open dining hall that evokes medieval ceremonial halls and converts into a dramatic events venue with seating for up to 336 people at night. A sweet-chestnut laminated-timber frame and butterfly trusses echo traditional collegiate halls in the exposed construction. The valley-shaped roof adds a contemporary twist, while details like the dowelled joints highlight the prefabricated framework's conventional construction processes. Large ground-floor openings create a visual connection to the nearby woods and a meadow on the southern side, while clerestory windows on both sides allow light to flow in from above.

The buttery has seating for up to 60 people and acts as a more casual cafe where students can socialize. On a balcony with views of the grounds, there are quiet study places. Back-of-house spaces, such as kitchens and staff facilities, are connected to the eating rooms through efficient and practical circulation links.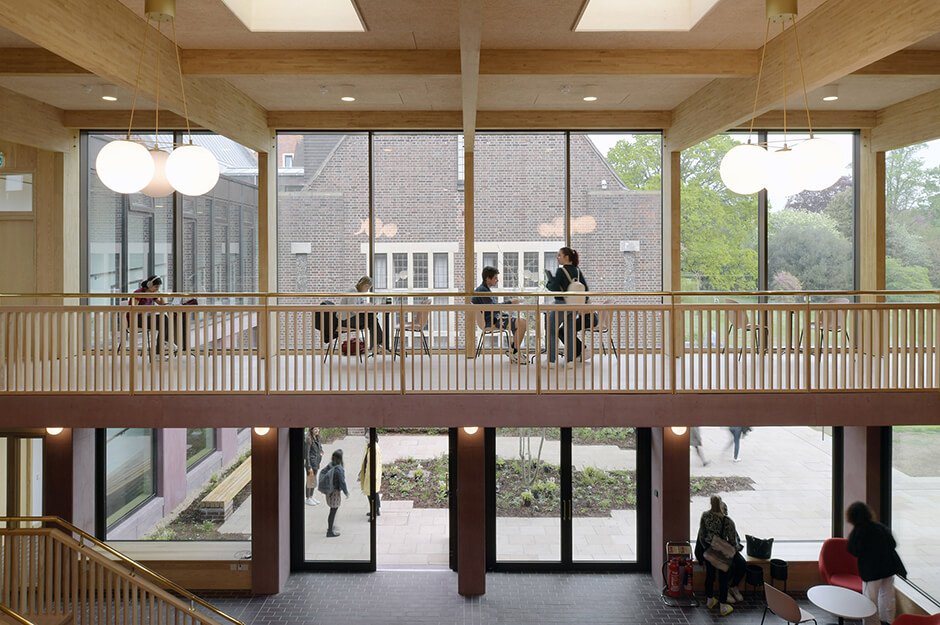 To reflect the nearby Ibberson Building, these structures are coated in red brick on the outside. Staff benefits from plentiful lighting and views of the freshly built western courtyard because of their offset forms. Feilden Fowles was founded in 2009 and has built a reputation for designing buildings that incorporate historic, cultural, or vernacular influences into contemporary projects with strong and expressive structural solutions.

The studio's earlier completed projects include a red sandstone pavilion at Carlisle Cathedral's entrance and a visitor center at the Yorkshire Sculpture Park with colored concrete walls.