How To Update Bathroom Vanity Lighting
Jan 10, 2022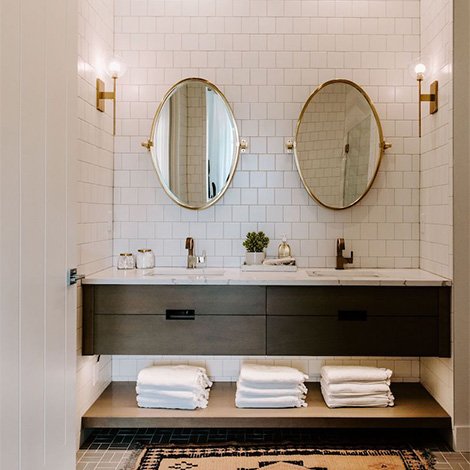 When redesigning a bathroom, don't forget about little decisions that can make your designs overwhelming. Along with layout, tile, and fixtures, good lighting is an important bathroom feature. We are sure that lighting enhances the design and is worth upgrading, but there are many good options and various ways to use them.

Let's take a look at some of those options.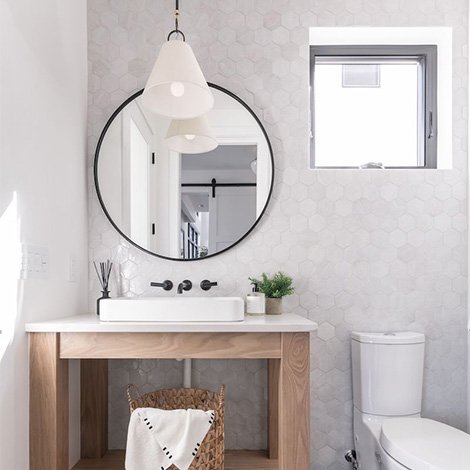 Pendant Lights


Pendant lights can provide an unexpected source of illumination for your vanity. We like how it draws the eye up to create a sense of height in the space. A single pendant makes a strong statement in this setting.

Consider pairing an ample pendant light with a solid-framed mirror to create balance. Make sure that the pendant is not too high. We like how the light reflects off the mirror.
Two pendants ideally frame a mirror. We adore this trendy ceramic cylinder and how it contrasts with the other organic textures in the room to create an artisan vibe.
Sconce Lights

A single sconce above a smaller mirror creates a sophisticated look. Don't limit your search to "bathroom lights." Use any sconce from your favorite lighting designers that you like.

Consider a single sconce above each mirror for a double vanity, or a row spaced above a larger vanity. We like how the swing arm and hanging sconces add depth to the room.

Sconces are a good idea for framing your mirror. Place one on each side of a double mirror, or add one in between a double set of mirrors for extra light.