Sanders Architecture places glazed bridge on ash-clad Austin home
Aug 03, 2022
A Texas home designed by US firm Sanders Architecture features a glass bridge that will weather over time and is covered in tan-gray brick and thermally treated ash. Austin's Pemberton Heights House is surrounded by a grove of native heritage live oak trees on the western slope of Shoal Creek.
According to Sanders Architecture, the placement of the trees and the design of their canopies dictated the shape of the building and the footprint of the house. The 5,948 square foot (553 square meters) house is made up of rectilinear sections that are arranged around outside areas, including a pool and backyard terrace.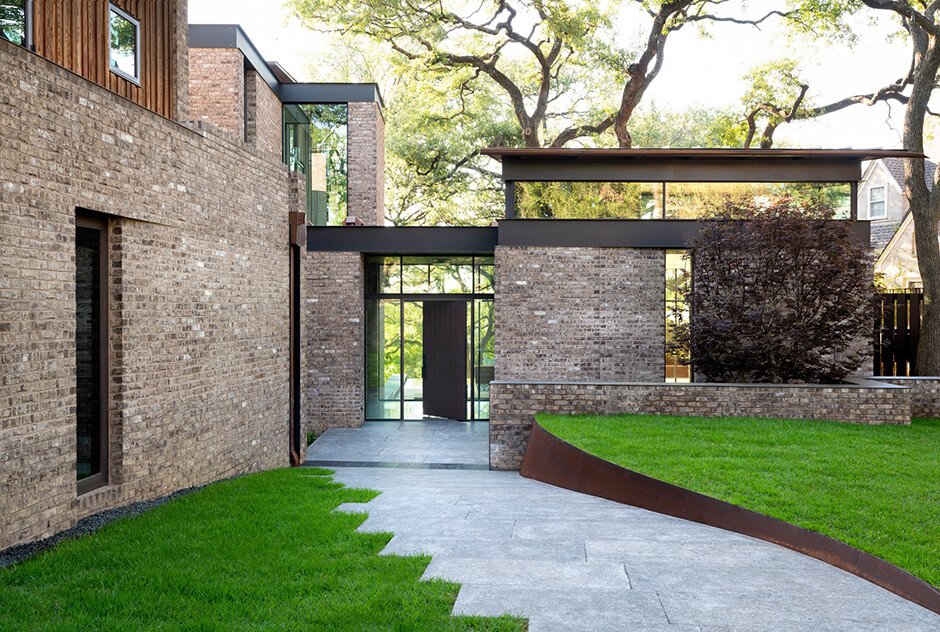 The residence has setbacks, protrusions, and varying heights that give it a dynamic aspect and are informed by the site circumstances. A walkway on the lower level and a glazed bridge above provide access to a semi-attached, two-story volume that is located close to the front of the house. The colors and textures of the natural surroundings were reflected in the facade's materials. The team also employed wood siding composed of thermally stabilized ash, which would eventually develop a grey patina, in addition to variegated brick.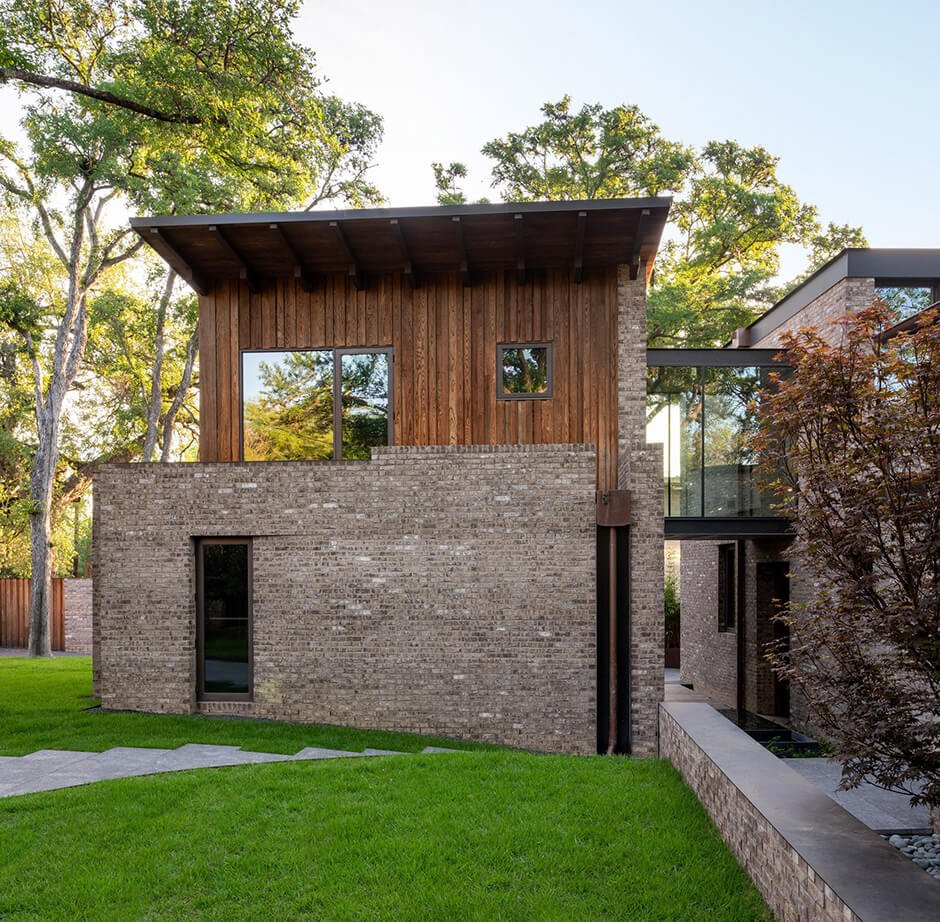 In order to visibly around the building on the sloped site, the exterior also has concrete and weathering steel. The team selected neutral colors and natural materials, like white oak and quartz, inside. There are separate public and private areas in the layout. The kitchen, dining area, living room, and den are all located on one side of the ground level. The office that serves as a bedroom is located on the opposite side. The team set up the main suite and a bedroom upstairs. There is more sleeping space in the basement.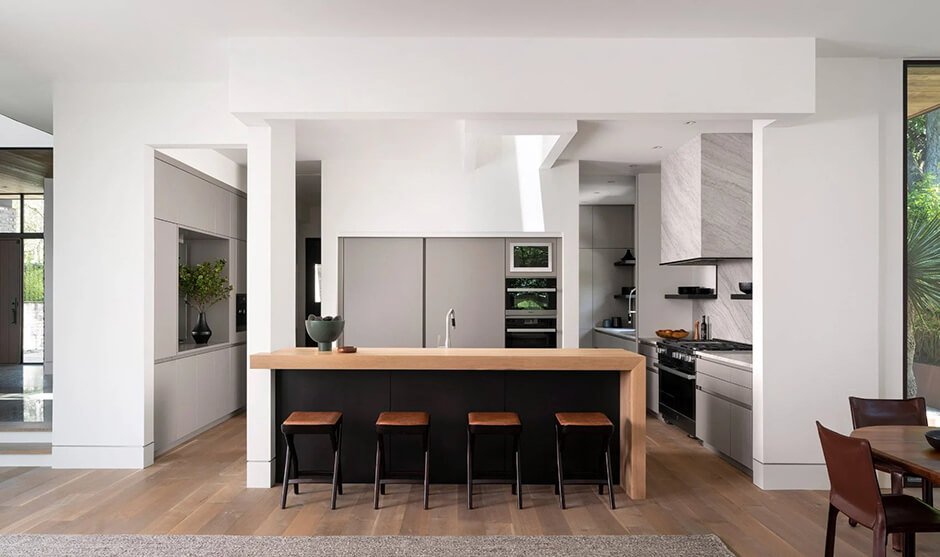 A staircase with painted steel supports, wood treads, and an aged metal mesh railing connects the house's levels. There is a garage on the lower level and a media room on the upper level of the semi-detached volume. The team used a lot of glazing because the customer wanted to feel connected to the landscape. According to the design studio, the windows in the home are placed so that most of the internal spaces allow for views of the outside and the trees.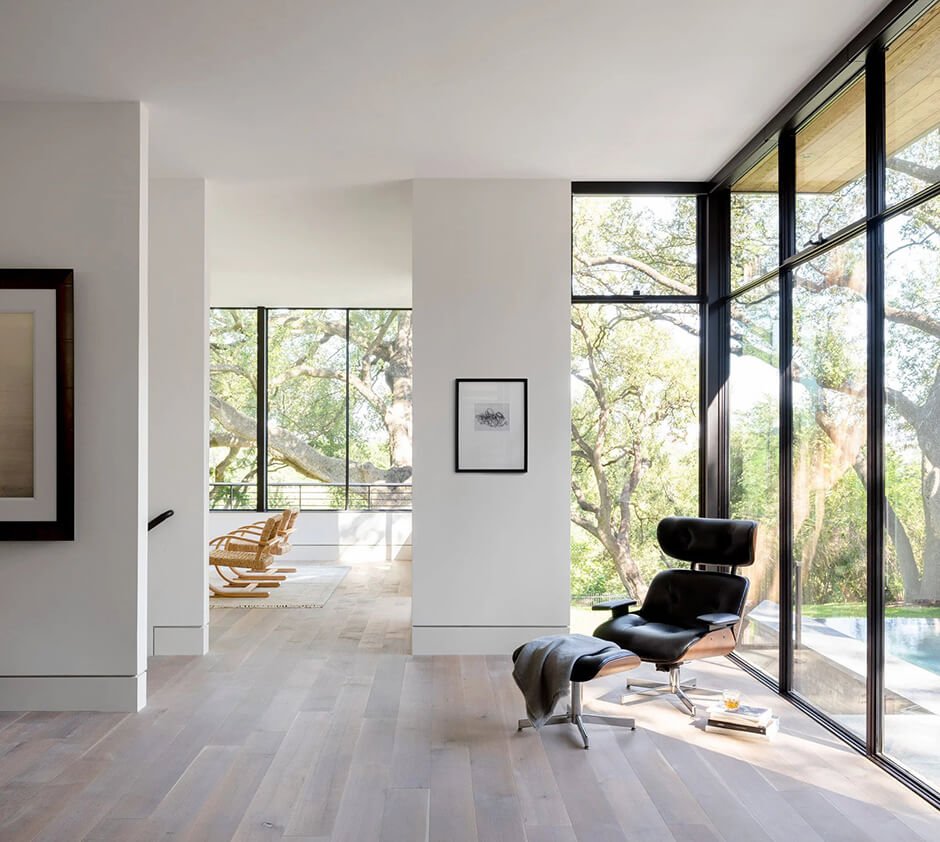 The team used a light well that penetrated two levels where privacy was a problem. The carved-out hole lets soothing natural light into the bedrooms on the upper floor and floods the kitchen with light. Glazed doors open to the backyard, where a pool highlights the oak trees and delineates the property's boundary with the creek. A canopy with moving louvers covers an entrance gate in the front of the building. Other residences in Austin include a building by Clayton Korte with gabled forms covered in limestone and fiber cement, as well as a dwelling designed by Side Angle Side for an architectural photographer with dark grey walls and a clean silhouette.