BIG and Barcode Architects cantilever housing block over IJ lake in Amsterdam
Aug 08, 2022
The angular Sluishuis apartment complex was built by the Dutch company Barcode Architects and the Danish architecture firm BIG. It is situated above the IJ lake in the IJburg area of Amsterdam. The square dwelling complex surrounds an internal port with a double cantilever that serves as an entry from the lake and was built on an artificial island in the IJ Lake.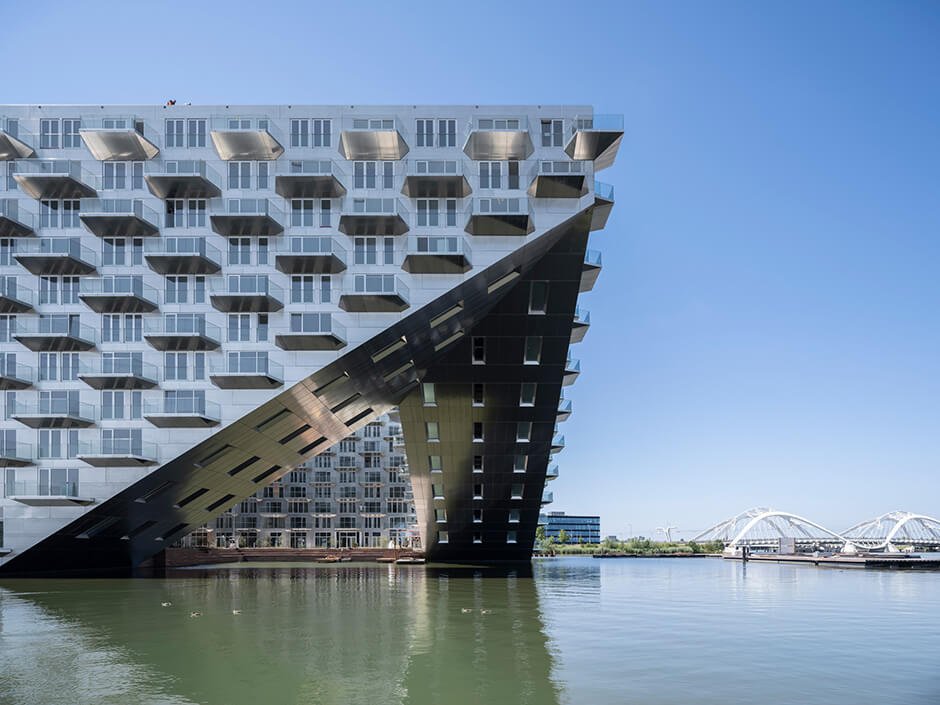 According to BIG founding partner Bjarke Ingels, Our Sluishuis is envisioned as a city block of downtown Amsterdam floating in the IJ lake, complete with all aspects of city life. The building bowed down before the city to invite visitors to climb to its roof and view the broad vista of the newest neighborhoods on the IJ. The 442 owner-occupied and rental units make up the housing development, which has been dubbed "a new monument for IJburg" by the architectural companies.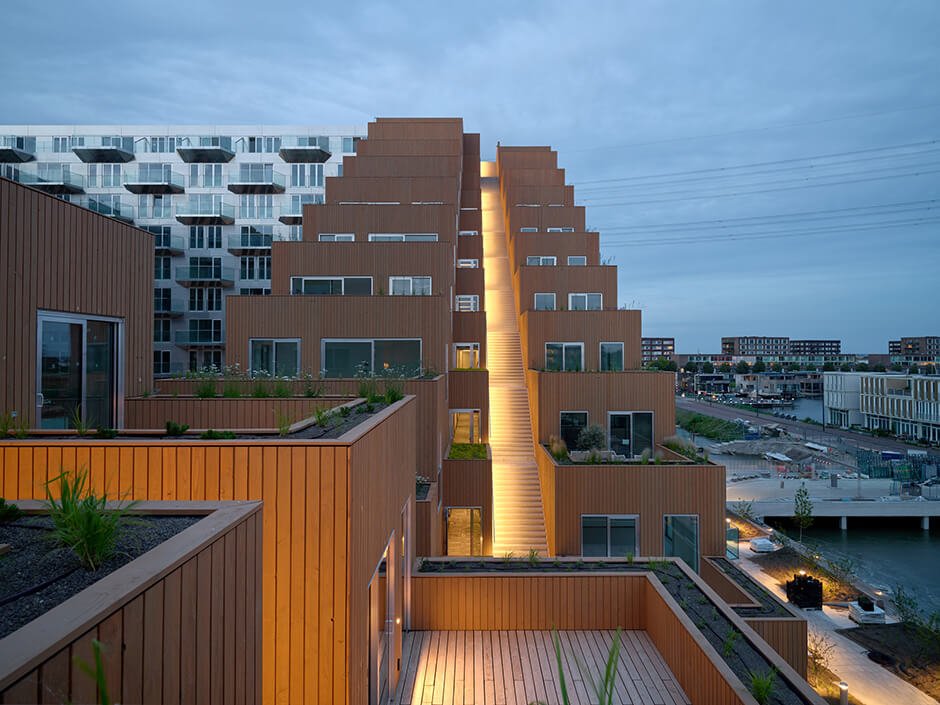 The structure has a distinctive shape, with two of the square's corners having blocks that protrude outward to create a cut-out above the sea and the other two having blocks that step down to create terraces with apartments spilling out onto upper balconies.
"Sluishuis is a new landmark for IJburg as well as Amsterdam," said Dirk Peters, founding partner of Barcode Architects, "with identifiable architecture, creative housing typologies, high-quality outdoor areas, and stunning views of the IJmeer."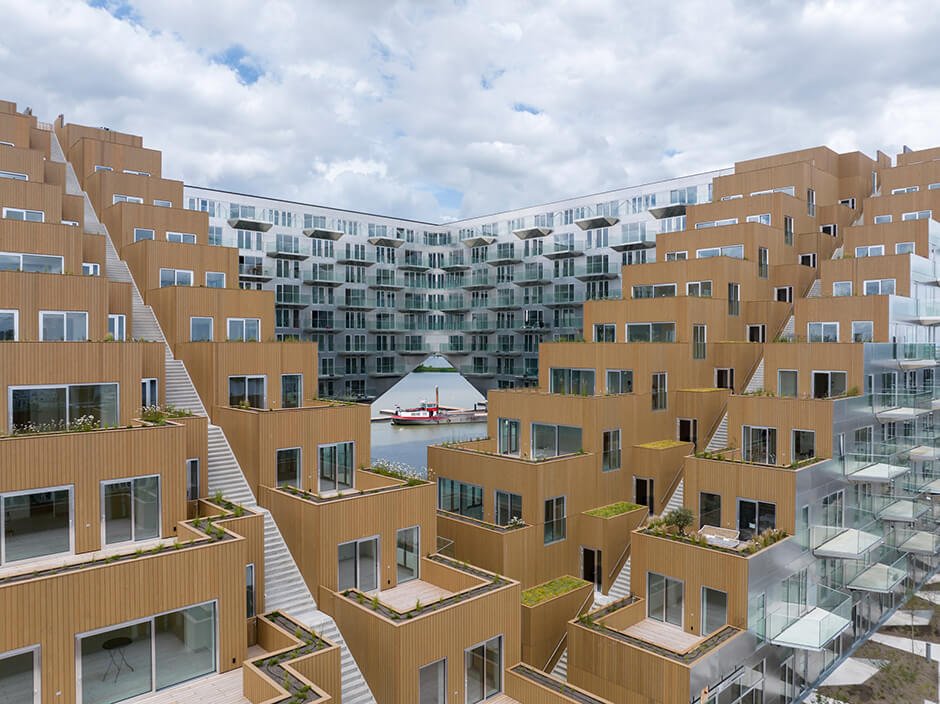 The four blocks surround a courtyard that has steps leading down to the water. The ground floor of the building is home to a sailing school, a water sports complex, and a café with a big patio that overlooks the courtyard. A structure with a port inside it, Sluishuis rises from the river toward the water, opening a wide gateway that allows ships to enter and dock there. Above the ground floor of the aluminum-clad buildings, which were designed to reflect the water surrounding them, are a variety of different-sized apartments, ranging in size from studios to penthouses.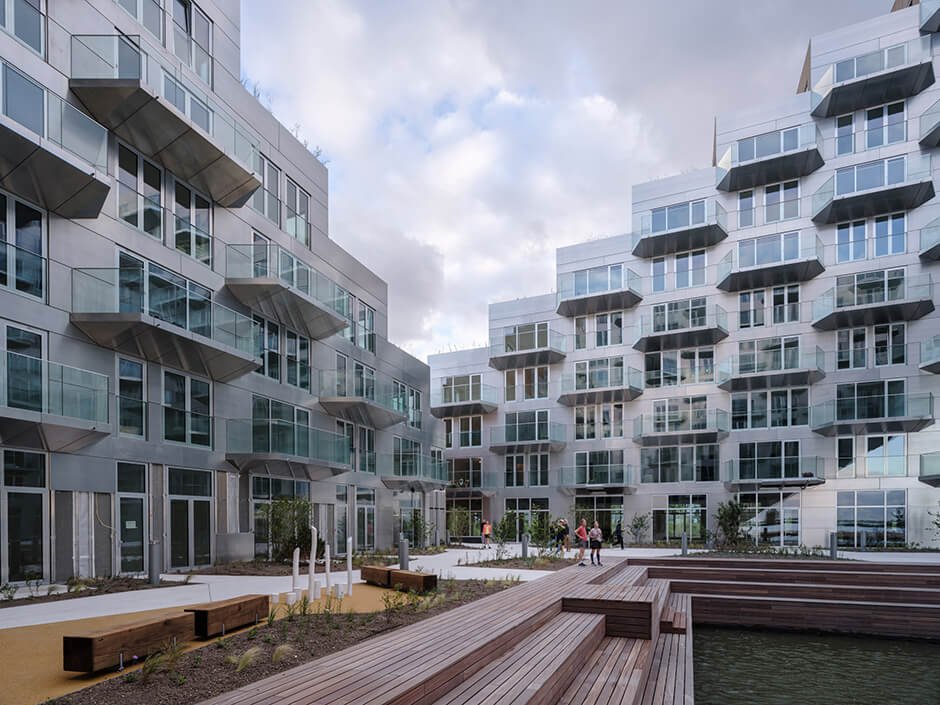 The top two stories are home to duplex penthouses, while the flats in the cantilever offer views of the water. The blocks that step down to create terraces are covered in wood when they do so to contrast with the outside aluminum surface. Two flights of stairs leading to a public green roof, garden, and rooftop promenade are needed to access the two angled faces. A pier with 54 spaces for recreational boats and 34 houseboat moorings are located near to the housing complex.
Ingels founded BIG in 2005, which is currently regarded as one of the most renowned architecture studios in the world. Additionally, the company built a prefabricated timber apartment tower in Stockholm that was meant to be a "manmade hillside," as well as a "winding wall" of cheap housing in Copenhagen.