Metalfire: handcrafted, premium fireplaces. 100 % customisable and made in Belgium
Dec 22, 2022
Premium fireplaces for architectural realizations


Belgian manufacturer Metalfire designs and produces high-quality open and closed fireplaces. Unlike other brands, Metalfire's collections are primarily designed with aesthetics in mind. All of our 100+ unique appliances combine high-end technical features with sleek designs. Our motivation to blend in with the architecture and interior of the home as a whole is what ends up separating us from the crowd.

It isn't illogical then that ever since our founding in 2003, Metalfire has caught the eye of and worked with multiple renowned architects and industry professionals. And we will continue to do so because our 'no limits' attitude allows for broad possibilities in custom work, finishing frames and extensions. Consequently, our fireplaces can bear the architect's or interior designer's personal signature, making them finely in tune with the design of their entire realization.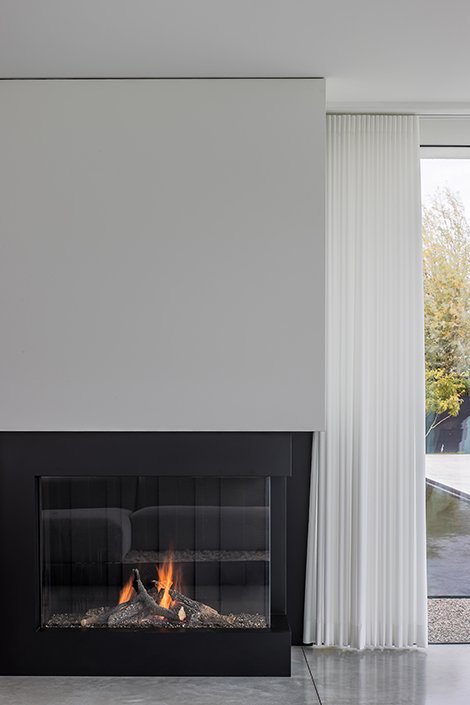 100% Belgian craftsmanship


Metalfire is firmly rooted in Belgian soil, where the fireplaces are manufactured by hand in our Evergem workshop. Craftsmanship is the fundamental value for Metalfire: every day our vision of architectural fireplaces is translated into reality by the skilled hands of our craftsmen. This combination of design, craftsmanship and passion is where our products' warmth and ambiance really come in. It ensures a unique attraction that simply can't be imitated by automated production processes.

Thanks to the dedication of our team, Metalfire fireplaces are now enjoyed all over the world. At present, the company produces about 1000 handcrafted fireplaces every year and delivers to more than 100 distributors worldwide.
Defined by innovation & customization


The current range consists of several open and closed gas and wood fireplaces. In the first category, there's the Avenue and Avenue Plus and the Urban model. In the second one, there's the Ultime D (liftable door), Universal. The common denominator: sleek, premium and customizable design. Metalfire also created a collection of desirable accessories called 'Metalforms,' which consists of the Anemone (design fire pits) and valuable tools in and around the fireplace such as their new fire poker.

A few years ago, Metalfire added two new designs to their assortment of interior finishes for the premium fireplace. After the success of the 'Original' vertical ribbed cast iron slats, the Triangle and Round versions now add a lively dynamic to the company's range. The innovations offer an exciting variation for our new and trusted architects and interior designers clientele. Still, more than that, they are a breath of fresh air in the collective industry. Ever the pioneer, Metalfire is the first one in more than a few years to create new designs for the fireplace interior, making these additions genuinely original and innovative. This new development proves and strengthens our position as market leader once more.

And the expansion doesn't stop there. As esthetical innovations in the fireplace market are very rare, let's take a closer look at all of the exciting novelties.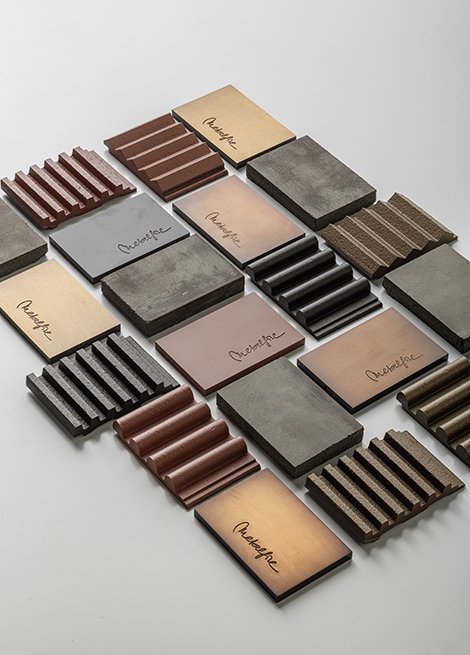 New colors


Though the Standard black lacquer already offers the most beautiful timeless base for any fireplace, Metalfire is thrilled to add two new colors to their cast iron finishes. 'Terracotta' and 'Maple Gold' add a delightful variety to the range and allow clients to customize their premium fireplace experience even more. The colorful additions will be available for both open and closed gas fireplaces.


New material


On top of the additions to the cast iron range, Metalfire also extends its possibilities for the fireplace interior altogether with a new material: ceramic.

Although it has become very trendy in recent years, ceramic is a material as old as time and highly ideal for the interior of a fireplace, thanks to its incredible heat resistance. For this new interior finish, multiple panels slide together beautifully to create a concrete look, seamlessly blending the line between trendiness and timelessness.

The ceramic panels join Metalfire's premium patinas, which have been a popular finishing for years, and broaden the possibilities once more. The patinas are available in three structured metals: bronze, brass and gunmetal, and they are as spectacular as they sound. Especially since they can be used from finishing frame to the total concept, as well as indoor finishes for the open gas fires range. Just imagine the eye-catching effect of the flames licking these glistening metal backdrops.
Made-to-measure


Metalfire's craft doesn't end at the edge of the fireplace, nor does its dedication. Apart from their amazing standard range of highly customizable fireplaces, the fireplace manufacturer prides itself on their made-to-measure concepts. Theirs is a limitless approach: no other fireplace will blend as smoothly with your wishes and consequently the entire interior. This is where Metalfire's sensitivity to the contemporary aesthetic truly shines.

Without ever disregarding functionality and modern standards, their fireplaces are designed to be a multi-sensory experience from an aesthetical view. This method allows Metalfire's creations to bear the architect's or interior designer's personal signature, making them perfectly in tune with their specific design demands. No wonder Metalfire's love for aesthetics and attention to detail has caught the eye of architects and interior professionals worldwide.