Loop Side Table Design by Mustafa Cohadzic
Jan 25, 2023
About the inspiration

The Loop Side Table aims to enrich our lives, both aesthetically and functionally. It illustrates how design can simultaneously simplify and enhance our spaces. The inspiration for Loop Side Table arose in 2020, a pivotal time in the world, seeing the transformation of homes into offices, playrooms and meeting rooms. This merging of personal spaces led Mustafa to the idea of creating a table that enables working from the comfort of your sofa and provides an alternative to the much-used dining table.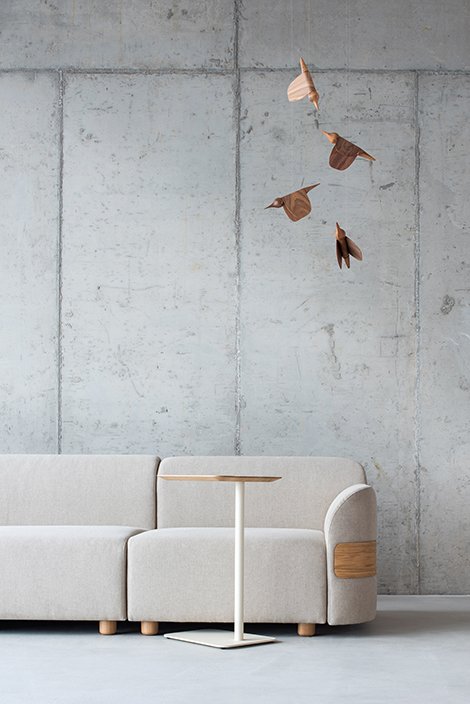 Product characteristics

The initial goal was to create a product that was sleek, minimalistic, and discreet. Its form is crucial to its function, permitting the table to merge and slide under sofas, thus allowing the plate to gracefully levitate over the seat. Additionally, Loop offers a rotating mechanism, enabling the plate to smoothly spin, and permitting its user to stand up with ease, essentially without the hassle of having to remove any items from it. Loop can also be used for other purposes - as an accent table, a nightstand, or a bedside tray table. Its metal base is powder-coated, whilst the tabletop is available in oak veneer and linoleum.



Unlike the rest

In essence, the table named itself with its unique feature - the looping motion. Thus, it is this very motion that differentiates Loop from the standard side table, and empowers it to take on different functions,with every turn that it makes.
Designer About the Loop Side Table:
"For visual sleekness, we balanced the coldness of the metal with the round edges and the warm exterior of the plate. Loop's aim is to be discreet in the interior space; its aesthetic is entirely in service of its function - to curve above the sofa seat for effortless use. Adding to that effortlessness, we implemented the rotating mechanism, ensuring exibility when standing up from the sofa. Hence, the purpose thoroughly conditions the form."


Mustafa Cohadzic
Technical features
Plate
The table plate is made of oak veneer (available in natural or black color lacquered options) or linoleum (natural, warm to the touch, smooth, antibacterial surface material, available in Nero and Mushroom colors). Both top surface options - oak veneer and linoleum, are glued on the birch plywood core.
Wood nish
Available in two lacquer finishes (colors): Natural lacquer which retains the wood's natural state, and Black lacquer, which gives the oak a uniform and sleek appearance while preserving the natural look and texture of the wood.
Metal base
Steel base has a powder-coated and new structure granulated surface finish available in two colors, Black RAL 9005 or Mushroom RAL 1013 color options.
Available materials
Metal base
Powder-coated stee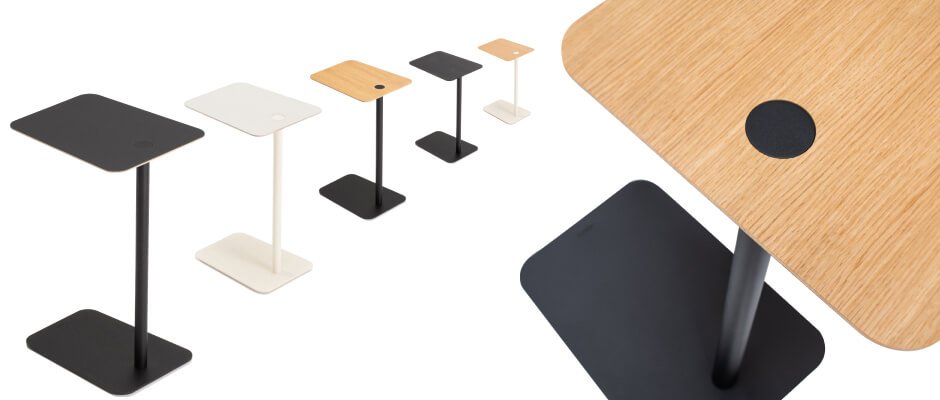 About Mustafa Cohadzic


Mustafa has furniture design in his DNA: he comes from a family of artisans, and his father handcrafted furniture. As a teenager, he was already designing and constructing his own pieces in the family workshop. Mustafa has evolved into a devoted product designer and designed his first piece for Gazzda in 2016. For Mustafa, the magic words in furniture design are functionality, aesthetics, and simplicity.

Around Gazzda, Mustafa is always ready to share a laugh. We know him as the man of 1,000 talents – from product design to music to photography to art direction. Want his opinion? He'll give it to you, direct and unfiltered. Even his communication is about simplicity.

When he's not cloning his design DNA in the Gazzda workshop, you'll nd Mustafa relaxing in nature or enjoying the quiet life in his home town Fojnica, together with his family.