In South China, a glazed library overlooks the sea
Jan 11, 2022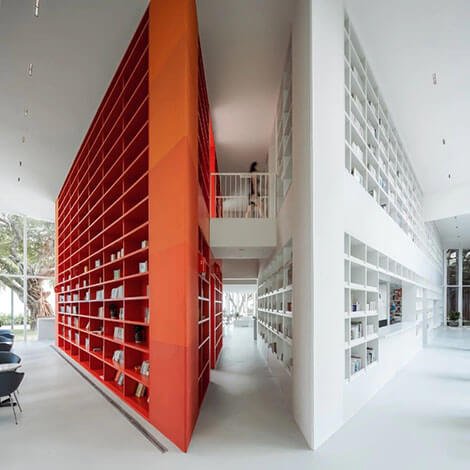 Wutopia Lab designed Tianya Books as a permeable volume connected to the landscape: triangles, floating volumes, and transparencies characterize the space, structured on two levels.

Tianya Books, located in Tianya Haijiao, a part of southern China previously imagined to be the end of the earth but today a famous tourist destination watches the sea as a meeting place between man and nature. This relationship is managed by the glass, which covers the building, reflecting the surface of the ocean during the day and displaying the internal red shelves at night, similar to the "morning light that brightens the entire beach."
The project, created Wutopia Lab, was initially made of a simple glass parallelepiped, from which a triangle was later carved on the short west side to preserve a banyan tree.

The building is divided into two levels, with the ground floor housing a bookshop, a café, and reading areas, and the first-floor housing children's reading areas and a small auditorium that appears as a floating, transparent volume detached from the facade and located about 6 meters from the ground.

This place, which overlooks the sea, includes a platform at one end from which to observe the landscape and immerse oneself in nature.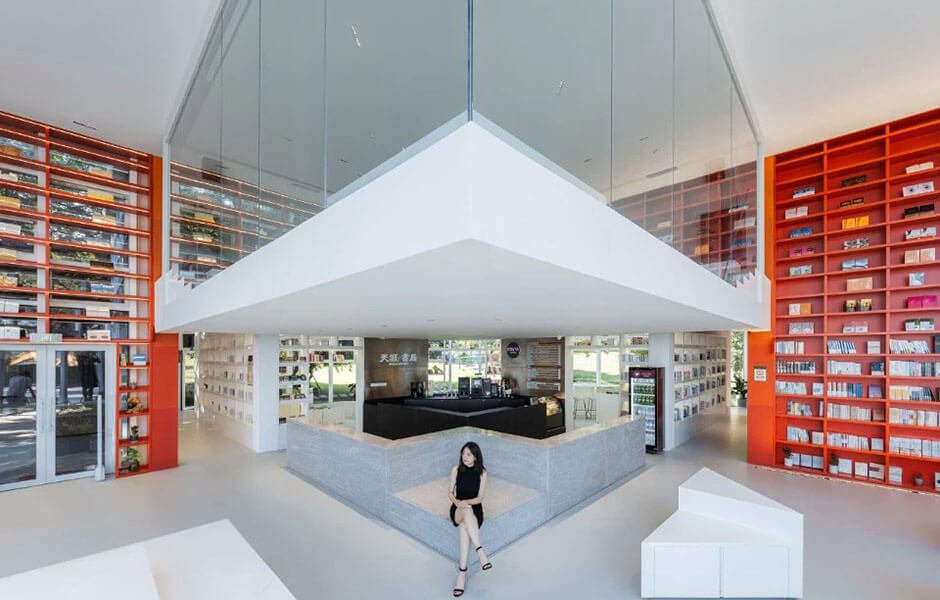 Tianya Books is a permeable building in continual interaction with the landscape, which is why the load-bearing columns are not apparent but hidden in the shelves.

The interior is structured in triangles, which determine the center of the bookshop, the staircase and shelf arrangement, as well as tables, seats, and the cafè. The geometric design was created to represent the location in which the bookshop is located, the southernmost tip of China. The red furniture, on the other hand, represents "the blazing fire of ideals".