6 purple interiors with Pantone's color of the year for 2022
Jan 11, 2022
Colour company Pantone named Very Peri the color of the year for 2022. It's a shade of blue, but most people see purple. In this article, we've presented 6 projects in which designers added statement sofas, bright tiles, and plush carpets in various purple shades to the interiors, showing the striking color's versatility.


Resa San Mamés student accommodation, Spain, by Masquespacio Bilbao
Masquespacio, a Valencia-based creative studio, used its unique color-blocking technique across the Resa San Mamés student accommodation in Spain.
The open-plan area has light purple tiles flowing down the walls, which the studio hoped would foster a sense of community among students.
Photo is by Masquespacio
Apartment, US, by Harry Nuriev and Tyler Billinger of Crosby Studios

The owners of this New York apartment incorporated their distinct personalities into one space by using vibrant colors, geometric forms, and unusual materials.

Purple hues pop up on the walls, carpet, leather cabinets, sofa and shelf unit. The color stands out against the grey walls and drapes in the living room.

Photo is by Dylan Chandler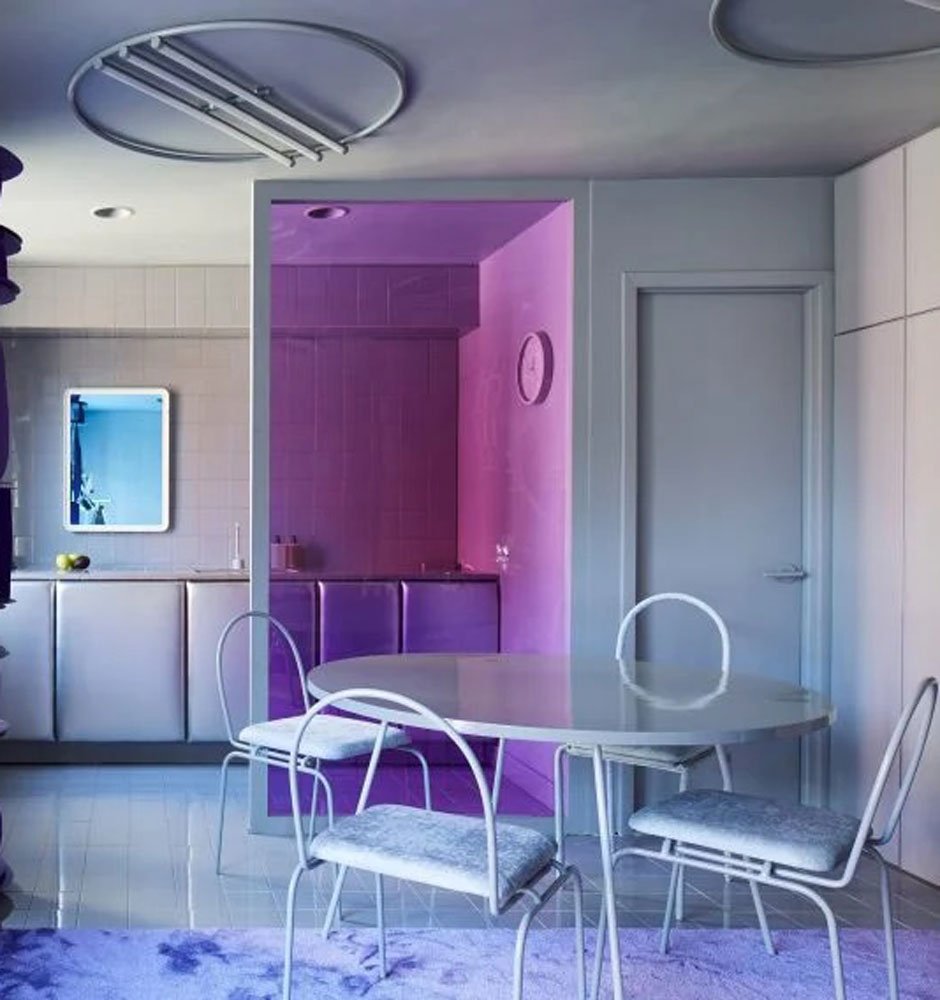 Cafe Krujok, Russia, by Eduard Eremchuk and Katy Pititskaya

A lilac tint covers the soft, velvety walls of Cafe Krujok in Russia, created by designers Eduard Eremchuk and Katy Pititskaya to embody "the essence of a donut" (Krujok is a round donut.)

The berry-colored purple represents doughnut glazing, and the space also has glossy dough-like beige furnishings.

Photo is by Inna Kablukova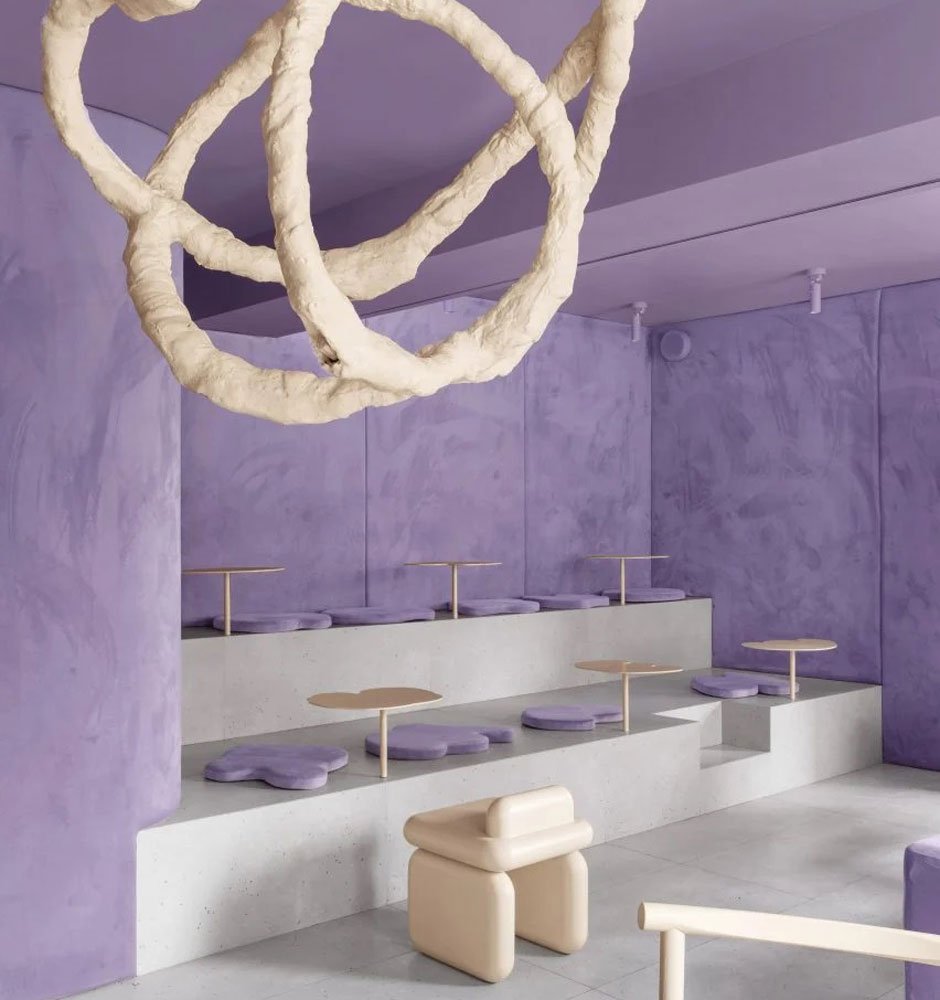 Cabinette, Spain, by Masquespacio

A pastel purple wall contrasts with the room's general pale turquoise tone and adds to the whimsical appeal of this co-working office in Valencia by Masquespacio.

Cabinette, which is located in the city's La Fuensanta neighborhood, was informed by the 1960s film Playtime by famed French filmmaker Jacques Tati.

Photo is by Luis Beltran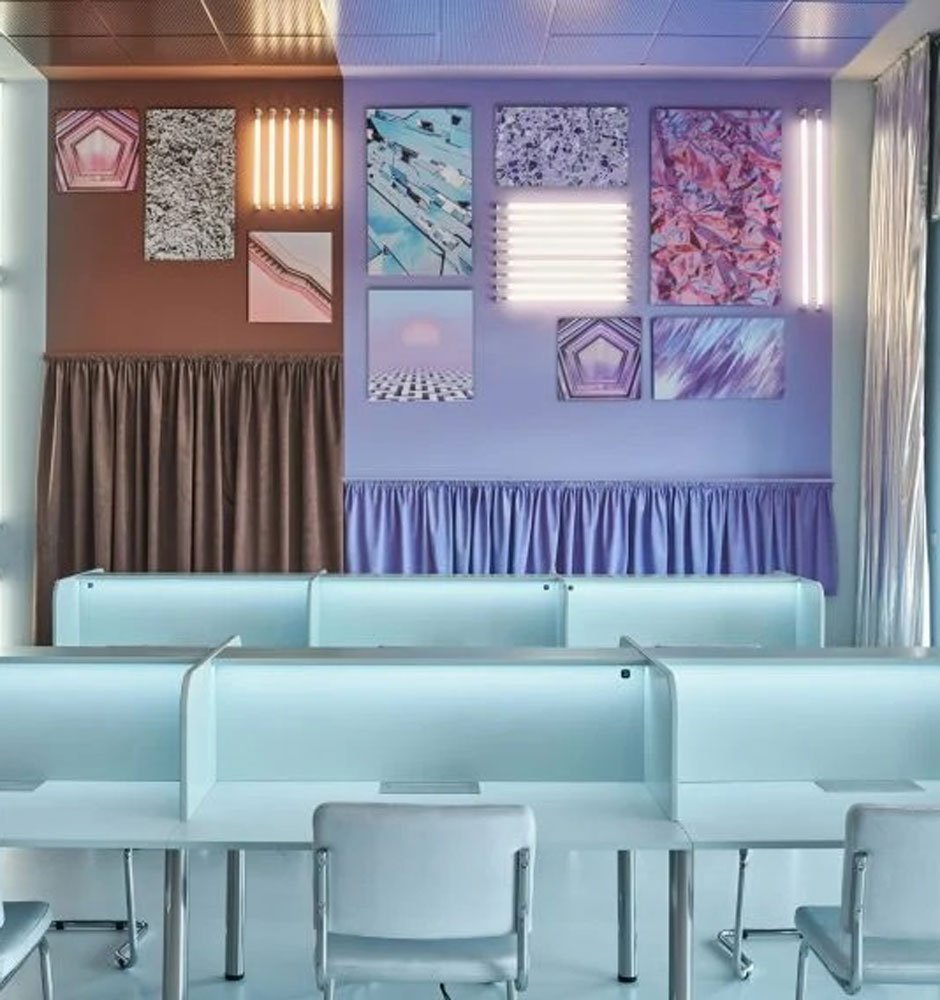 Pam and Paul's House, US, by Craig Steely Architecture

In Pan and Paul's House, an eye-catching purple sofa has been placed in the center of the living room. In order to create a discrete lounging space, Craig Steely Architecture sunk the sofa into a 144-square-foot (13-square-meter) pit.

Inhabitants can take a rest on the plush cushions while admiring the beautiful view of the nearby Santa Cruz Mountains.

Photo is by Darren Bradley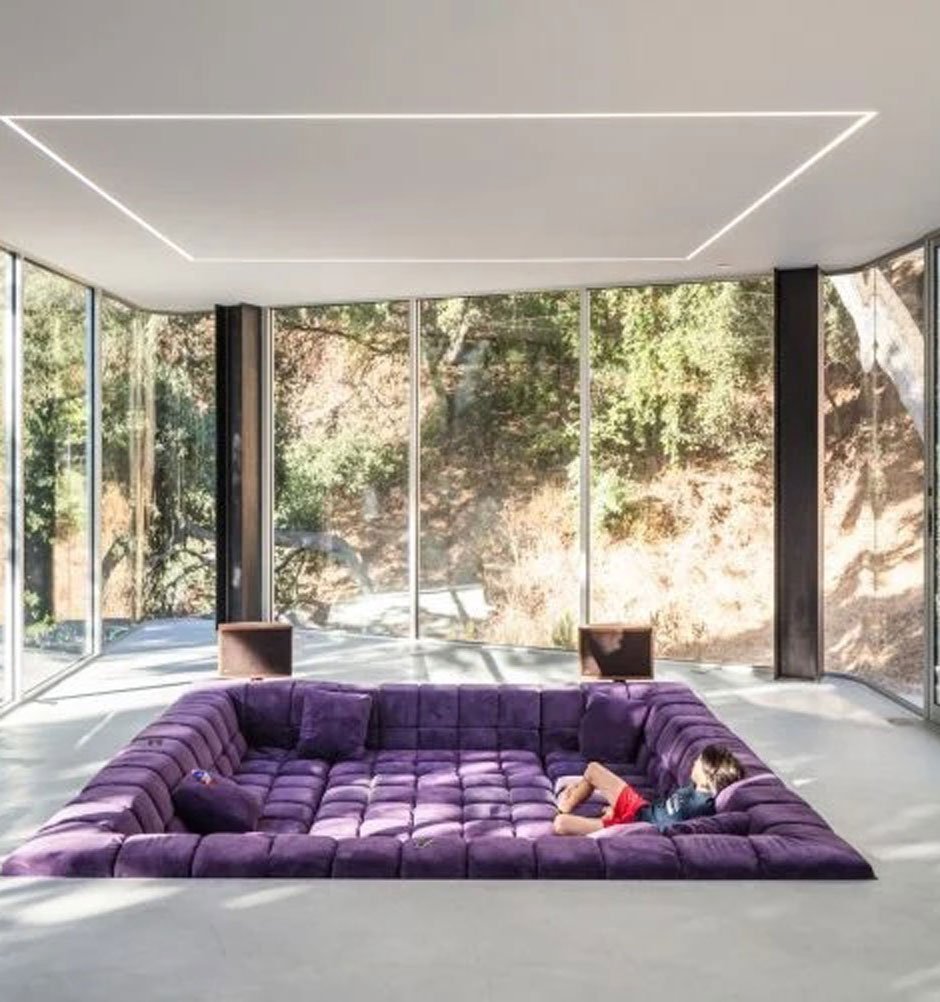 Pieces Home, US, by An Aesthetic Pursuit

The doorframe and flooring of this rental house in Maine, which includes furnishings and products that guests can purchase, are in purple-blue.

"Colour led the inspiration for the project, with pattern and texture coming in as key elements to round out the concept," said creative agency An Aesthetic Pursuit.

Photo is by Claire Esparros