Rock-like chapel of sound designed in Chinese valley
Jan 11, 2022
Thanks to its sensory design, OPEN Architecture's open-air concert hall appears to emerge from the landscape.

The Chapel of Sound, a monolithic open-air concert hall hidden in a rural valley in Chengde, two hours northeast of Beijing, was completed by OPEN Architecture.

The building, which resembles a naturally occurring rock formation erupting from the terrain, is made of concrete mixed with an aggregate of local mineral-rich rocks. The structure, designed in partnership with Arup, comprises an inner and outer shell, and each striation cantilevers out from the preceding layer to form an inverted cone shape.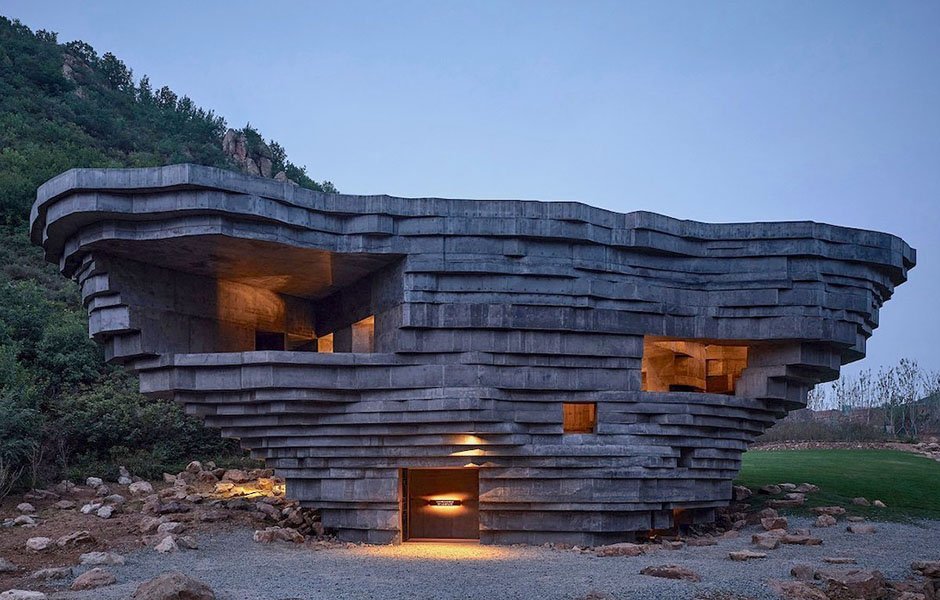 The Chapel of Sound features a semi-outdoor amphitheater, outdoor stage, green room, and a rooftop platform with views of the surrounding hilly scenery and nearby ruins of the Ming Dynasty-era Great Wall. While the structure was built to enhance the musical experience, the architects also envisioned it as a place for leisure and connection with nature.
'We were very aware of the responsibility we had to contribute a thoughtful structure that fits naturally into such a unique landscape,' remark OPEN's founding partners Li Hu and Huang Wenjing. 'We wanted to create something different, and more importantly, something meaningful… The symphony of nature is what we really wanted people to experience here.'

The architects were inspired by how sound reverberates in natural places such as caverns and examined sound behavior as an inspiration for the building's shape. Working with acoustic specialists, OPEN created apertures in the structure that serve as sound absorption zones and a link to the outside world.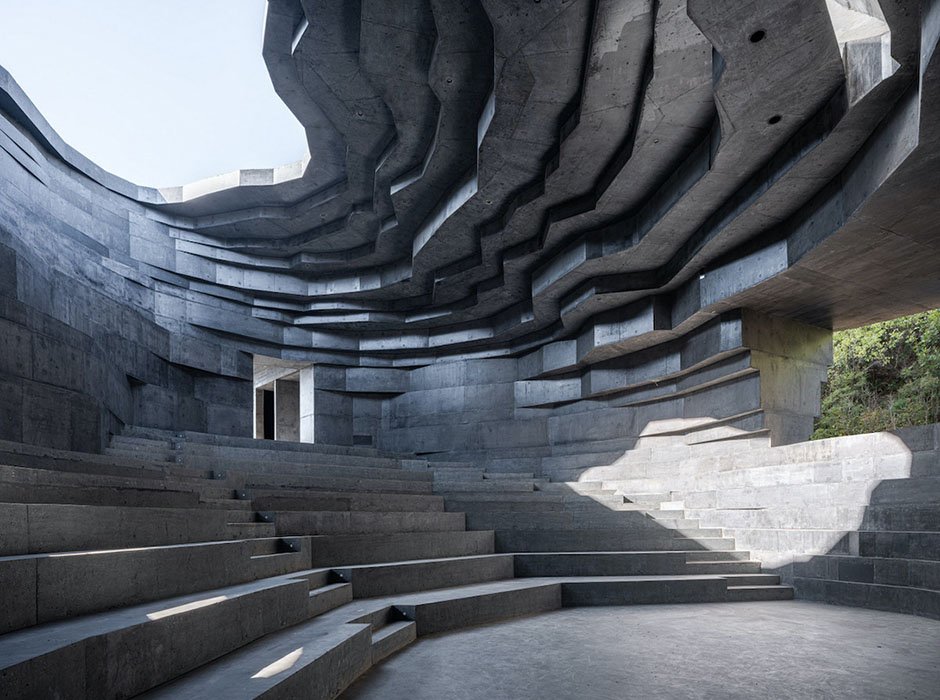 790 sq m open-air building has no heating or air-conditioning, so it requires very little energy – even though it is connected to the power grid to provide both practical and dramatic lighting, most of which is LED and weatherproof.

Natural elements may enter via the structure's apertures, including a gap in the center of the rooftop that allows daylight to permeate the performance rooms. In addition, bronze accents for elements such as handrails and doors are employed on the inside to provide a warm contrast against the concrete. However, they will inevitably weather with time.


Photos by Jonathan Leijonhufvud and Zhu Runzi