An underground house in Mexico looks at the sky
Jan 11, 2022
A few hours from Mexico City, a home enclosed in the belly of the earth embraces the landscape and establishes a mythical covenant between architecture and nature.

To relate to its natural surroundings, which are framed by wooded mountains and carpeted with avocado fields, architect Francisco Pardo literally chose to make this vacation home for a young couple to disappear into the belly of Pachamama, the Mother Earth of Central American cultures, which covers the construction.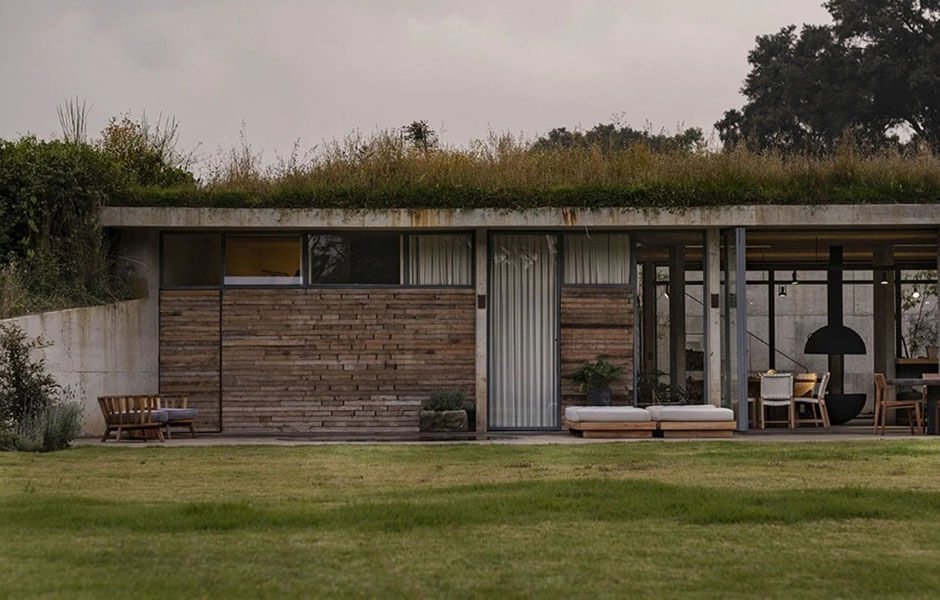 The partially hypogeal house is built into the hill it stands on, with a green roof from which avocado trees emerge: a solution that is effective both from a landscape and a technological standpoint, as it offers optimal internal thermal conditions in an area subject to significant fluctuations, thanks to the earth on the roof acting as insulation and keeping the home at a constant mild temperature.

The volume embedded in the ground unfolds inside like a huge container in exposed concrete, with a practical and flexible layout thanks to the reduced partitions. The central living space unites the several adjacent rooms: the kitchen, dining room, and living room, the bedrooms (the master, children's, and two guest bedrooms), and the study. It has access to a panoramic terrace with a whirlpool tub and views of the forest.

A patio dug into the ground on the opposite side gives additional access as well as a second source of natural light and ventilation.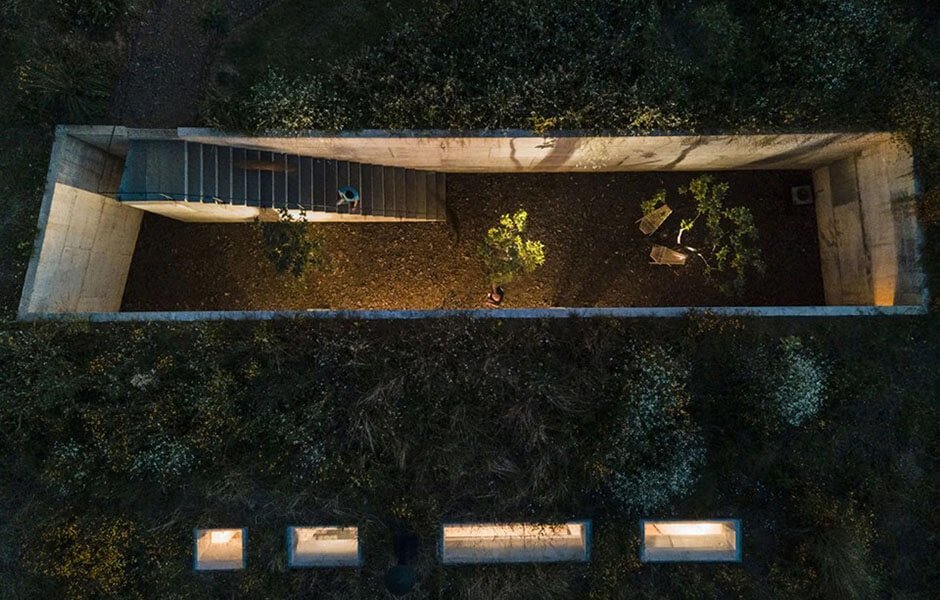 The interiors are distinguished by a simple, low-maintenance design that is nonetheless attractive: the exposed concrete structure contrasts with walls covered in Chukum, a natural stucco from the Yucatan region, and recycled raw pinewood; custom-made furnishings - the kitchen, the black metal fireplace - demonstrate meticulous attention to detail and the desire to characterize an essential, almost monastic, but warm and welcoming space.

An outdoor cabin made of recycled wood, which serves as a storage area and observation point, offers stunning area views.

As the couple enjoys hang-gliding, the sky serves as the "fifth façade" fully integrated into the composition, owing to favorable views framing zenithal panoramas that contribute to creating an amniotic and dreamlike atmosphere suspended between the earth and the sky.