RYB Apartment in Kyiv: A minimal interior with a calming palette
Jan 11, 2022
Ukrainian studio Men Bureau led and founded by Oleksandr Maruzhenko designed the RYB Apartment, which is a minimal and peacefully soothing interior with a calming palette.

The apartment is located above a commercial area in the Rybalsky residential complex in Kyiv's Podol district, Ukraine. This allowed the studio to better use the space by splitting it into two blocks: a private part (a children's room and a master bedroom with a bathroom) and a public one (consisting of a spacious kitchen-living room and a bathroom and a workplace).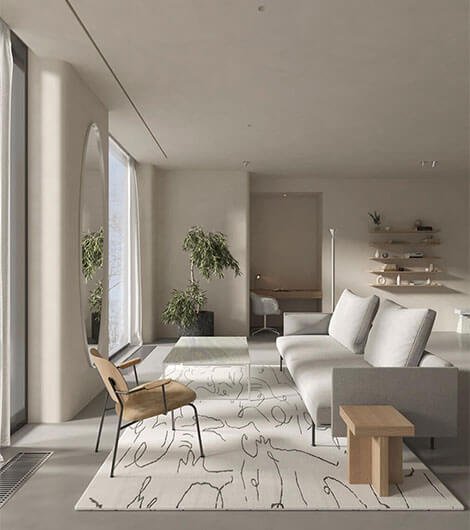 This place is intended to fulfill the needs and emotions of its inhabitants, serving as the setting for diverse scenarios of daily life. The primary rooms are composedly linked to one another through materials and textures.

Men Bureau was commissioned to create a serene refuge for the owner and his family to escape their cosmopolitan lifestyle. The main goal was to use natural materials to create a clean, basic, but informal ambiance.

To get flexibility and minimize excessive separation of an already compact flat, the partitions have been (almost) eliminated, resulting in an open plan structure with one central module defining the primary living space. This module comprises an efficient kitchen set, a dining area, a small workstation, and a big living room — this allows the space to serve several roles without becoming cluttered.

Except for the children's room, all rooms face the courtyard, which is lushly landscaped. The children's room opens onto a beautiful view of the Dnieper River. This room will be allocated as a meditation space for parents once their children have grown up and left the house to attend university. The workspace in this area is positioned in a way that natural light adds to a comfortable work environment.
A single palette of materials was used to visually link the spaces: birch plywood, micro cement, Japanese KitKat tiles, and Caribbean Calcite marble. These materials provide a laconic backdrop for furniture and lighting fixtures. In all rooms, the chilly tones of micro cement were combined with the warm textures of plaster and wood.

Famous pieces of furniture, such as Fritz Hansen dining chairs, Norm Architects' Co armchairs, and Pholc's Apollo 180 floor light, are easy to combine with custom-designed furniture. In addition, the penetrating sunlight emphasizes and enhances the architectural aspect of the space.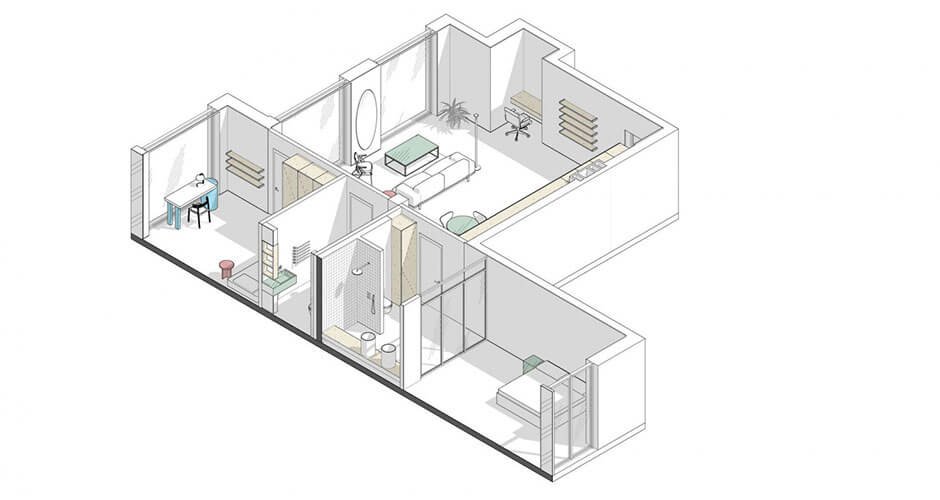 One of the most significant improvements within the project was the consolidation of 3 bathrooms into 2 more spacious ones, as well as the removal of unnecessary partitions. The quantity of natural light entering the main living room has risen as a result of the space restructuring. Glass walls were installed to shut away from the natural light that floods the bedroom.