High-tech style in interiors
Feb 11, 2022
Today we want to talk about high-tech style and discover some creative ways to use it in interiors. Let's take a closer look.


History of high-tech style
The high-tech style (English hi-tech - high technologies) is the newest of all styles. It is a style that emphasizes the structure of a building.
This unique style in design and architecture came into being in the 1970s in the depths of postmodernism and gained widespread application in the 1980s. It took its origin from the design of industrial premises. In the sphere of interior design, this style came from architecture, where it was born in the times of late modernism, mixing pragmatism, pop art, and 1960s science fiction themes.
The popularity of science fiction cinema and literature and the introduction of ultra-modern materials are the bases of the high-tech style.
High-tech is often regarded as the conclusion of age - a moment of transition, modernism, and the peak of "modernity" in architecture and design.
Main features of high-tech style
Everything in high-tech is ultra-modern and functional, and every element is worked out to the tiniest detail.
Now let's dig a little deeper into the main features of the high-tech style.
The key characteristics of the high-tech style are the utmost effective use of space and less decor. The high-tech look is distinguished by quick, clean lines and an abundance of glass and metal elements. Ceilings, walls, floors, staircases, windows, and doors are all designed with technology in mind.
Hi-tech is associated with ultra-modern aesthetics, and it employs structures typical of industrial buildings. In architecture, for instance, the basic premise has become the dwelling's social orientation, its practical compliance with the required demands of the occupants.
The basic concept of high-tech is that everything should be practical. For example, "self-adjusting" vise clamps activate when a large glass panel, such as a curtain, stick, or table, is placed beneath them. Likewise, mobile partitions are frequently used because they can be closed and opened, changing the configuration.
When it comes to high-tech materials, chrome pipes, metal surfaces, polished connecting bridges, bolts, glass, and plastic are popular in use.


High-tech in interiors
A high-tech style is frequently used when a large space is available. However, if the room is tiny, the design must be planned to extend the area visually. That is why mirrors that "push" the walls are often used as a high-tech décor. In a high-tech setting, a little, non-flat-screen TV will appear ludicrous. A large LCD/plasma TV or home cinema is required for such a room.
The living room may be paired with a home office because any computer and media devices mix in with the high-tech design.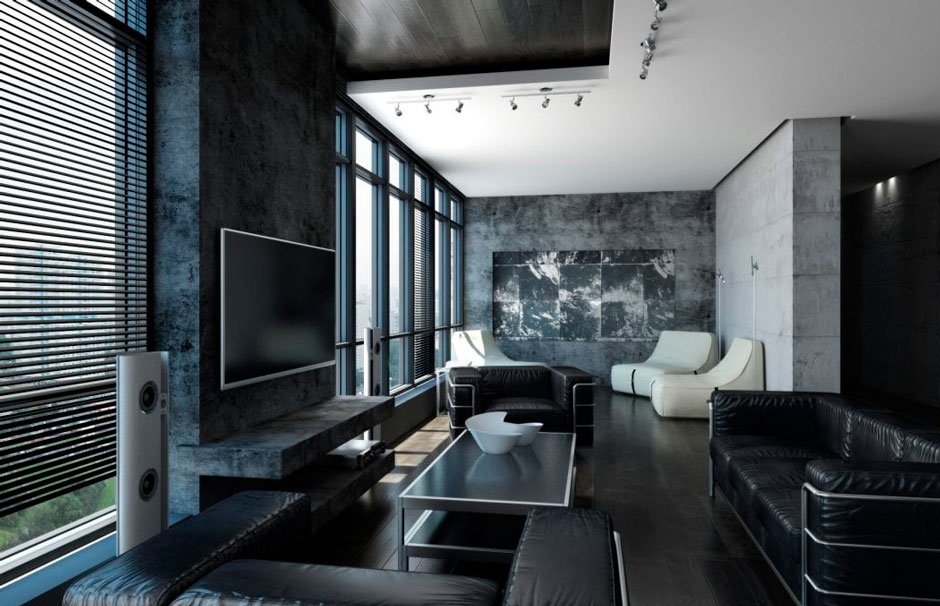 When it comes to furniture choice, glossy, light, and laminated furniture is ideal. In addition, compact wall units, shelves, TV stands, and cabinets with a glossy shine complement the high-tech decor.
Chrome accents and glass may be used to embellish furniture such as shelves, coffee tables, TV cabinets, and so on.
Upholstered furniture has a single color. It can be made of cloth or leather, but it should be smooth and polished.
Plastic seats or armchairs in the dining area, even translucent variants, are acceptable.
A few oddly shaped pieces of furniture will make an excellent interior décor. You can use an uncommon and one-of-a-kind chair, a one-of-a-kind coffee table, and other items.